Tuesday, May 31, 2022 - 14:36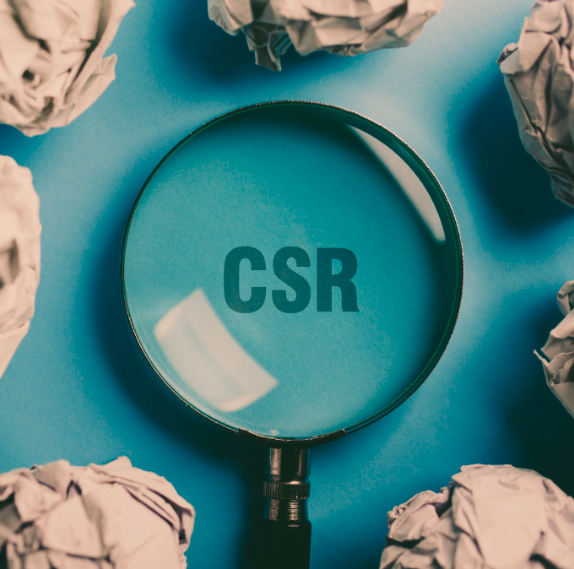 Companies are expected to play an increasingly significant role in making the world a better place. Today, customers, employees and investors are more driven to engage with purpose-driven companies that are taking action to overcome economic, social and environmental challenges. 
Statistics highlight the growing significance of corporate social responsibility (CSR), no doubt accelerated by the pandemic – as many as 77% of consumers are more motivated to purchase from companies that are committed to a greater good. Furthermore, the majority of investors (73%) affirm that efforts to improve the environment and society have an impact on their investment decisions.
For businesses, CSR is no longer an optional choice, but a necessary commitment. As we continue to adapt to the impact of two years of pandemic, new CSR trends are emerging and exerting a strong influence over the corporate environment.

So what are the main CSR trends that we can expect to see developing in 2022/23? Let's explain them below. 
1: Digital Transformation And CSR Software 
Digital transformation is making its presence strongly felt across all aspects of modern corporate operation – and the field of CSR is no exception. As CSR becomes a stronger influence within decision-making, companies must find the right tools to digitalise and innovate their efforts, to achieve the best results. 
In this context, CSR software can prove to be a real gamechanger, allowing companies to automate their CSR efforts, helping them to manage, track and report defined goals and activities. Effective CSR software means great impact achieved in less time, with the additional potential to lower costs. 
What can we expect to see going forward?
Exponential Results: Businesses who have invested in CSR software can expect to see better outcomes and higher impact, as they work more efficiently and intelligently. 

Enhanced Data & Communication: Functional CSR software will give companies true control of their CSR efforts, as it automatically monitors progress, generates data, gives a clearer visualisation of results and builds accurate reports. 

Employer Branding: One of the main elements of CSR is to positively improve the perception of your company, especially to future hires. Adopting CSR software will help your employer branding, giving a better ability to outwardly demonstrate the impact you're having, and helping to attracting talent.

Employee Engagement: Employees saw accelerated digital transformation in the workplace as a result of the pandemic, especially in case of collaboration platforms and cloud-based workspace. Increasingly, employees will expect access to CSR activities and information to be offered to the same high digital standards.

Consumer Engagement: CSR is an increasing expectation consumer-side. Want your audience to fully engage with your brand and demonstrate lasting loyalty? Clear CSR communication will be key.
2: Employee Engagement  
It has never been more critical to create a working environment that fosters and supports employee engagement, especially after two years of the pandemic. Only 36% of workers feel engaged in their workplace, and 38% feel exhausted after so many virtual meetings.
According to Forbes, employee engagement is defined as the emotional commitment an employee has to an organisation and its goals. It is no longer enough to have policies and strategies in place, companies need to take action and show how they are actively encouraging participation and supporting their employees' success.
Employee engagement is a win-win for all involved. A highly engaged workforce equals an enhanced performance for clients and higher talent retention within your business. The results supporting statistics are encouraging; employee engagement has been shown to lead to an increase in business profitability by 21% and 4x more revenue.
Considering the increasing prominence of CSR in today's workplace, having a CSR strategy in place is a great way to keep your employees engaged. Beyond strategy however, it is crucial for companies to solidify their goals and communicate their efforts. You need to make sure your CSR initiatives have sufficient internal exposure.
KindLink can facilitate better, more productive employee engagement opportunities, such as volunteering organised through a dedicated digital platform. It gives employees the chance to develop and demonstrate their skills whilst tracking their progress and involvement with the organisation. 
What can we expect to see going forward?
CSR becoming more "bottom up", less "top down" -  Businesses are listening more to their employees when it comes to strategy, and centering policy around causes and values that align with their workforce.

More employer branding promoting CSR work - Organisations can strategically use their CSR efforts as part of their recruitment positioning, promotion, to attract talent. 
3: Thinking Global, Acting Local  
Increasingly, acting locally is just as important as acting globally. As much as it is beneficial for companies to take high profile action on an international scale, there is an opportunity for businesses to make a really significant impact closer to home, within the community surrounding their various premises. CSR is more than "grand gestures", but it is also about the smaller but essential impact that can be had within local communities. 
KindLink is committed to help local causes by providing them with a free and effective CSR platform, through which they can request help and post opportunities for collaboration and partnership. For businesses, it creates a connection between companies and communities, allowing them to find opportunities to help and to hear directly about the positive impact they've helped to create.
What can we expect to see going forward?
Community-Business Connection: Businesses thinking more strategically and creatively about how they help local causes. For example, companies can use their team's professional skills to create a lasting impact by providing volunteer training sessions to small local businesses.

Remote Volunteering: There is so much you can do to help local businesses remotely. For example, providing online events and upskilling sessions. This is an area which saw significant growth during the pandemic lockdowns, and we can expect much more to come.

Crisis Management: Businesses will be expected to take swifter, more decisive action in the face of global emergency events. From natural disaster to man-made tragedies, having a clear plan for consolidated response will be vital.  More on this in Section 6…
4: Full Supply Chain Accountability 
Companies (and their stakeholders) are becoming increasingly aware of their impact on the environment and, consequently, supply chain and CSR must walk hand in hand. Good CSR practices are applicable to every aspect of a business, including its full supply chain. 
Supply chain encompasses the efficient management of a business' logistics and all the processes involved in the product or service offered. In this context, CSR aligns with the supply chain by examining social and environmental responsibility – for example, ensuring all partners are vetted and are environmentally responsible. 
Today, businesses must be increasingly careful about their professional connections and collaborations – reputation can be at risk. As mentioned above, sustainability is a crucial aspect of supply chain accountability, and as a result organisations should prioritise minimising the impact of production across their entire supply chain, from sourcing to the afterlife of their products and services. 
What can we expect to see going forward?
Holistic Business: A growing expectation for businesses to take a fully holistic approach in supply chain management.

Transparent Partnerships: Full chain transparency and accountability. An increased vetting of supply chain and channel partners, prioritising environmental-driven partners and clear CSR reporting. 
5: Enhanced, Transparent Reporting  
Reporting is an essential practice across multiple aspects of business, allowing organisations to track their activities and identify areas of improvement. As a result, there is a strong correlation between reporting and CSR, and a rising need to generate clearer and more transparent reports. 
The intelligent leverage of data and the impact of digital transformation in companies' strategies helps them to achieve a more accurate and transparent reporting. Platforms such as KindLink offer a dedicated digital suite of tools to enable better tracking and reporting, pulling together impact facts and figures from across an organisation, maximising effectiveness and efficiency to ensure that the best insights can be gathered.
What can we expect to see going forward?
More Reports! - Bigger companies already tend to post their annual or half-yearly CSR reports, but this will soon affect businesses of all sizes. Publishing and promoting CSR reports is key for a company to showcase their impact. When it comes to investment decisions, CSR reports are a standard consideration.

Increased Efficiency - As the demands for CSR reporting grow, the processes associated with gathering information and compiling clear, engaging results will also undergo improvement.  

Analytics - With CSR becoming a more precise and measurable practice, analytics will also be more complete, benefiting from better tracking of progress, stats, facts and figures.
6: Rapid Response In Times Of Crisis  
Nowadays, news - good and bad - travels extremely fast. If something happens on the other side of the world, we find out almost instantly. We are well used to a 24/7 rolling news cycle, from TV, radio, websites and social media platforms. When something significant occurs, the eyes of stakeholders and the public are on businesses and their responses. Increasingly, they expect better and more decisive responses – tangible action pre, during and post-crisis. Rapid response to crisis or emergency as a business is crucial.
Whether man-made or natural, businesses need to have an agile and confident response to emerging social impact issues and emergencies. Over half of consumers have stopped doing business with a company because of its positioning related to social issues, so having a response strategy in place to guide your reaction is key. 
Having an adequate crisis response improves businesses' reputation, on top of helping with the formulation of a solid ESG strategy and enhancing employer branding. 
What can we expect to see going forward?
Better Communication - CSR trends point towards companies having clearer communication when it comes to emergency responce. It keeps your workforce engaged and  avoids misinformation and misinterpretation. In this sense, having an appropriate social media strategy is vital and organisations can use the platform to expand their reach and promote their efforts. 

Proactive Crisis Response - It is unwise for businesses to wait for the crisis to come to take action. Successful businesses have a proactive approach to crisis response and are always one step ahead. 
7: No More Greenwashing / Greenhushing  
Thankfully, the greenwashing days are over. Consumers are waking up to greenwashing practices and new regulations and more strict prosecutions are taking place. In 2021, several companies were called out for greenwashing practices. Similarly, with greenhushing, where businesses hide or downplay their work towards sustainability for fear of coming under scrutiny or criticised.
What can we expect to see going forward?
Transparency - The pressure is on, and companies will need to be much more transparent with their sustainability efforts if they want to stay relevant and avoid prosecution. 

Progress Over Perfection - Those with a consistent and progress performance will be more valuable than "perfect looking" companies, so there is a priority in promoting progress over perfection.

Less Dramatic Claims - Overblown environmental messaging is no longer a fit with a sceptical public, looking for concrete proof. If you can't provide the statistical evidence of your success, don't push the message externally.
8: A Focus For Investment 
Improving the quality of your CSR and ESG will potentially attract more investment opportunities.  The global sustainable investment had an increase of 68% and is now exceeding $30 TRILLION! 
CSR can drive revenue for businesses, and a CSR software can make this process go smoother. A CSR driven platform, such as KindLink helps to develop accurate and insightful CSR, ESG and SDG tracking reporting. By compiling your impact in one place, you always have your performance in hand to showcase to potential investors. 
What can we expect to see going forward?
Impact Investment - The exponential growth of impact investment will lead to an increased competitiveness, so businesses need to differentiate themselves based on exemplary CSR actions.
9: Close Focus On SDGs  
In 2015, the United Nations created global sustainability goals, called the Sustainable Development Goals (SDGs) to encourage people to protect the planet to ensure a better future for all. 
As businesses look to improve their CSR strategies, these are increasingly used as a gold standard for creating an impactful and responsive framework. According to the UN, SDGs, businesses have until 2030 to make a real impact, so they have an implied responsibility to ensure real movement here. 
KindLink platform measures and promotes your efforts, from CSR through ESGs and SDGs, so it ensures your hard work goes unnoticed. Tracking your actions against the SDGs is a great way to communicate CSR progress against a globally recognised, proven and familiar framework.
What can we expect to see going forward?
SDGs Influence - CSR trends include a higher prominence of SDG framework in external and internal communications of CSR strategy.

SDGs Strategy - As the deadline approaches, companies must rethink their existing CSR strategy to include and better align with the SDGs going forward.
Embrace The Future Of CSR 
CSR represents a turning point for companies. The public, stakeholders and investors are demonstrably favouring companies that are socially responsible and committed to build a sustainable future. Organisations chasing sustained growth must remain in close alignment with a carefully considered CSR strategy.
With CSR also representing such an important factor when it comes to employer branding and employee engagement, businesses hoping to surpass competition must also double down on this essential practice. 
KindLink's CSR platform adds value to businesses, helping them stay relevant and responsive to CSR as it develops. It provides a dedicated digital space for organisations to manage all aspects of their corporate social responsibility, and promote their amazing impact to the wider world.