Monday, May 15, 2017 - 18:17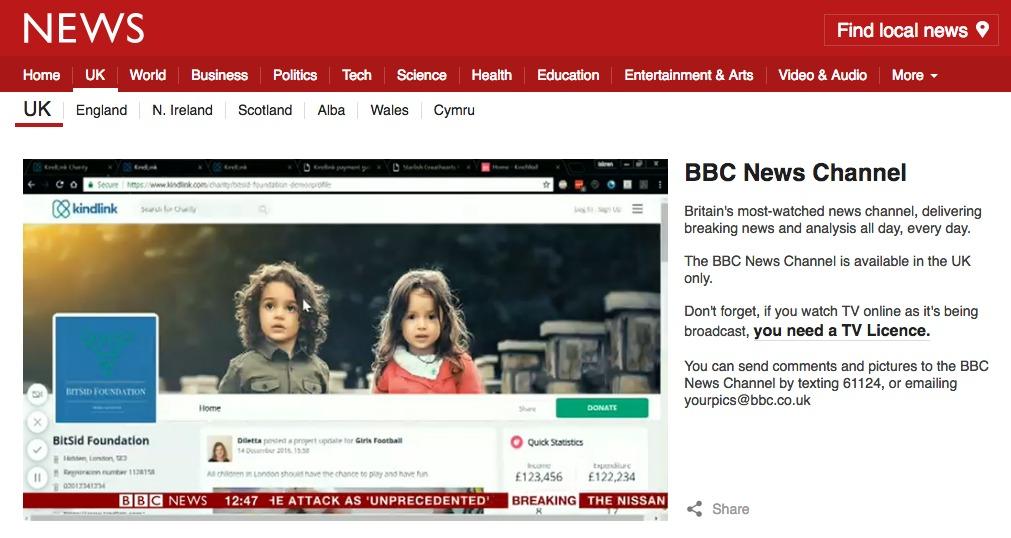 The BBC's weekly technology programme BBC Click, which airs internationally and is presented by the show's charismatic host Spencer Kelly, has recently featured KindLink in one of their episodes.
BBC Click learnt that our start-up had been up and running for only nine months, yet it had already seen sign ups from over 200 charities (with more joining every day) and sent his troupe to find out more about our work. During the interview, our CEO Iskren Kulev had the chance to explain what we offer to charities, an innovative digital and social media platform to engage and interact with their donors – for free. 
KindLink was born when Iskren saw the opportunity to combine his knowledge of financial technology with a new digital software that could help charities through a cloud-based platform and cheaper online payment processing.
"We provide charities with the software they need to run all their daily operations and at the same time be more transparent and engage with their donors. Users can track their donations all the way through to the beneficiaries receiving timely updates on their contributions and charities only cover the bank fee of 1.3%, unlike other fundraising platforms that usually charge 5% or more. They can now get on with helping those in need without extortionate fundraising costs. We take care of the tech, so they don't have to!", said Iskren. 
Alongside the charity platform, KindLink has recently developed KindLink For Business, a new feature which provides companies with a creative way to manage their Corporate Social Responsibility (CSR) and build their brand as social businesses. In fact, by registering for a KindLink Business Profile companies can now display and track how much they have given to society and show the impact of their kindness, while actively connecting with the charities they support and their donors.
Iskren says: "It was a fantastic opportunity to be featured on the BBC alongside the launch of our proposition for donating businesses. We were able to showcase the incredible work that KindLink is doing and how we are bringing innovation into the sector."
The programme featured also two charities which are currently benefiting from using KindLink platform, BigKid Foundation and Starfish. Talking to BBC Click, Elinor Middleton, CEO of Starfish, which helps children in Africa with a mobile vaccination clinic, said that KindLink helped them save more money that went towards improving children's living conditions. And let us say that we are definitely proud of it.
The first broadcast of BBC Click featuring KindLink was on 13 May 2017 and it is available for online viewing on BBC iPlayer here (12 mins 15 secs): http://www.bbc.co.uk/iplayer/episode/b08qlwlk/click-great-balls-of-fire
For viewers outside the UK please see the excerpt from the show featuring KindLink at https://youtu.be/WwNnNSxabtY