Monday, December 13, 2021 - 14:47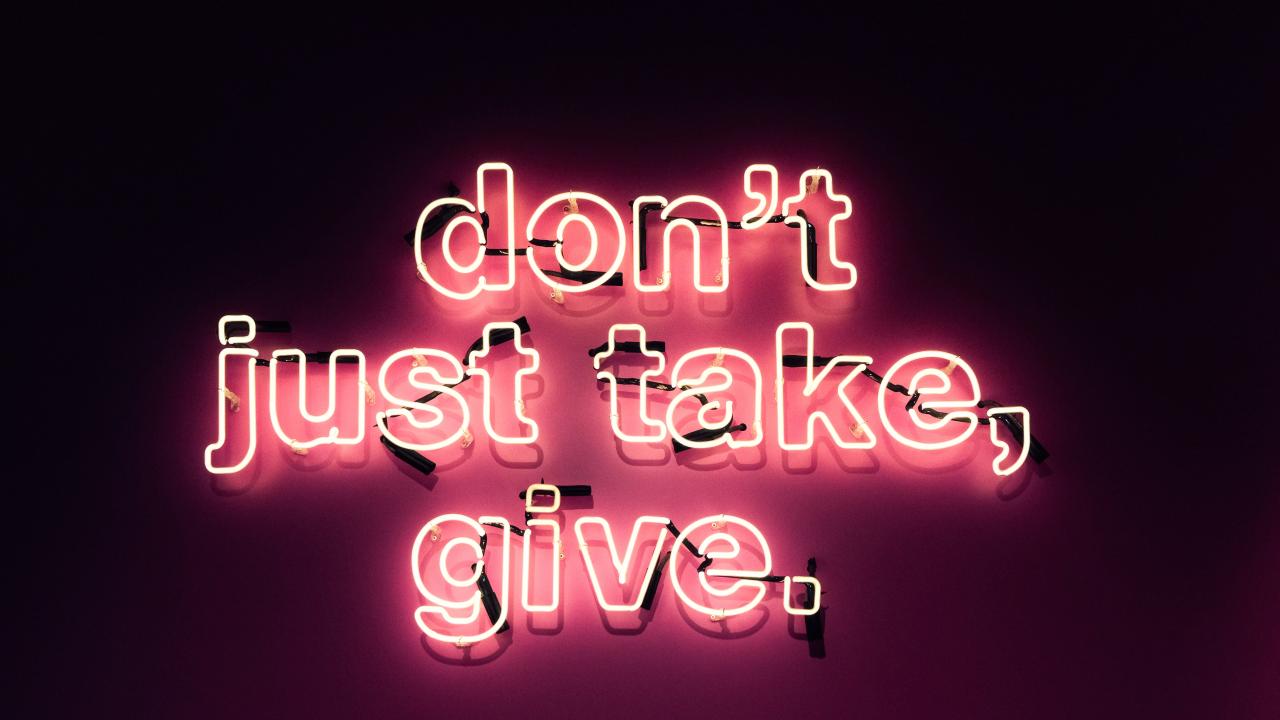 We're rounding off the year here at KindLink with some good news – we're delighted to officially announce our partnership with GoodBox. As we head into 2022, KindLink users will be able to leverage our wealth of experience within the online fundraising space, alongside GoodBox's cutting-edge contactless payment technology. 
The result? An unbeatable 360 degree approach to fundraising that will see your efforts optimized on and offline, with easier management and a better overview of your campaigns and supporters.
Let's explore what this exciting new partnership promises to deliver...
The Changing Face Of Modern Giving 
We were already moving towards a cashless society, but Covid-19 was the nail in the coffin for small change. While many have welcomed this shift towards convenient contactless payments, it's been disastrous for charities, who have traditionally depended on cash donations for a large proportion of their fundraising.
Since 2016, GoodBox have been working hard to develop solutions that offer new options when it comes to spontaneous donations "out and about" – replacing the traditional dip into the pocket for loose change with an easy and up to date solution that empowers both donors and the causes they're supporting.
By providing a range of physical payment technology products that enable people to "tap to donate" set amounts, the process of giving has been made convenient, contactless and infinitely more appealing to the modern-day donor.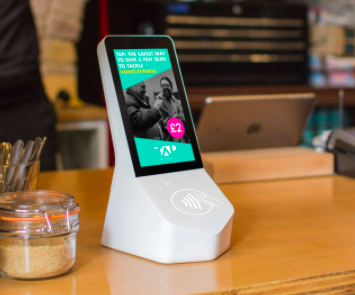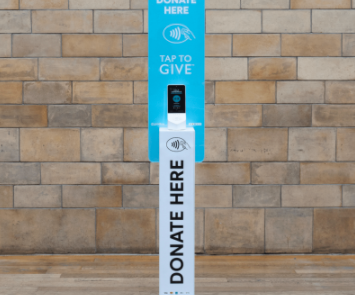 Digital Giving: Online And In Person
The GoodBox approach gels perfectly with the philosophy that we hold here at KindLink. Modern giving should be optimized with elegant digital solutions – the future of many charities depends upon our ability to make giving easy and intuitive for the altruistic public.
At KindLink, we facilitate this through our range of online products – from online fundraising pages through to a highly functional non-profit CRM tool – all free, for any charity, CIC or registered non-profit organisation.
When it comes to digital fundraising, options are what is needed – removing all friction from the giving process so that donations can be maximised, and with the new KindLink / GoodBox partnership, this has never been easier. If you're a business raising funds for a supported charity, learn more about the opportunities here.
Corporate Contactless Fundraising
Our new partnership is also great news for businesses that are looking to improve their fundraising efforts across the board. Contactless donations, enabled at events or within your office space, can now combine with KindLink's dedicated online team fundraising pages, to give you a full spectrum of donation raising opportunities.
Learn more about GoodLink's contactless fundraising technology here.
What's more, you'll be able to easily share the progress of your campaigns and charity impact updates directly from your KindLink profile, letting your employees and donors know about the difference they've made, and motivating them to keep up their great work.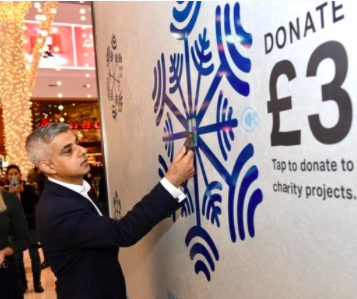 A Match Made In Heaven: What Does This Partnership Mean For Your Fundraising Efforts?
Charities working with KindLink and GoodBox can leverage our new integration to obtain a single source of truth for their fundraising data. By linking the two systems, we can then ensure that all contributions are correctly imported to the KindLink CRM.
This gives you a better overview and understanding of the way donations flow to your organization, giving you the chance to optimise your future fundraising strategies, and ensure you continue to effectively appeal to donors. Supporter data is securely and compliantly held, and you have the ability for ongoing donor engagement and supporter engagement.
Essentially, working with KindLink and GoodBox ensures that you're covering all bases when it comes to providing convenient opportunities for seamless donation – on and offline, through websites, at events and far beyond.
Ready To Maximise Your Fundraising With KindLink & GoodBox?
Wonderful! We're very excited to see what our fantastic charity partners and philanthropic corporations will achieve as the result of this powerful new partnership. To get started, reach out to GoodBox by either booking a call using the button below. You can also choose to connect via email (kindlink@goodbox.com) and GoodBox will be in touch to matchmake you with the best device and services to support your ongoing fundraising success.
Here's to the future of fundraising!
 
Reach out to KindLink to learn more about how you can get accelerate your fundraising efforts via our new partnership with GoodBox.