Monday, December 12, 2022 - 15:50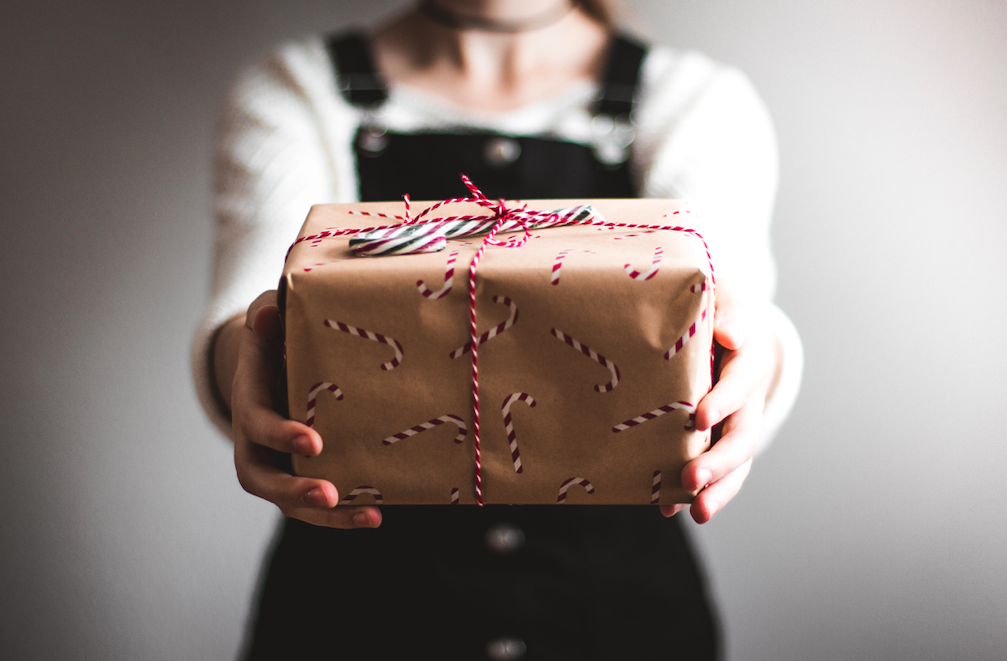 It's the most wonderful time of the year… Or at least, it should be. Increasingly, the holidays are becoming a time of overconsumption, excessive damage to the environment and exploitation of workers – not at all in keeping with the spirit of the season!
At KindLink, we support businesses who are committed to ongoing ethical and environmental improvement via dedicated ESG strategies. As a result, we thought we'd take this opportunity to share ten fantastic gifts that you can feel great about giving this holiday season.
Let's turn the tide by supporting brands that have robust ESG strategies – unlocking happier holidays for everyone!
1 . Lush Fabric Gift Wrap 
Before we even get to the presents themselves, you'll need something to wrap them in. Research by Greenpeace uncovered that 1kg of wrapping paper is responsible, rather shockingly, for more than 3kg of CO2 emissions during the process of its production. This is primarily due to the 1.3kg of coal needed to manufacture it.
Unfortunately, we get through a lot of wrapping paper – consumers in the UK use 227,000 miles of wrapping paper each year – enough to wrap the island of Guernsey! While some wrapping paper can be recycled, any addition of foil or glitter and, unfortunately, it will need to go straight to landfill.
The solution comes from eco-friendly soap slingers, Lush. Embracing the ancient Japanese art of furoshiki wrapping, where fabric is used to cover and protect small items, the company produce beautiful, seasonally inspired knot wraps, which can be used in lieu of wrapping paper – and then enjoyed again and again, either as an accessory, framed, or recycled to wrap another gift!
Lush ensures they go one better in terms of the environmental impact of their knot wraps, with each one made from 100% recycled plastic bottles, printed using a waterless heat transfer method.
2. Eco Whiskey From Nc'nean 
What's more festive than a wee dram after a cold countryside walk with your family? While carbon emissions might not be the first thing that springs to mind when sampling a rich Speyside malt, the Scotch whisky industry is a significant contributor to the country's carbon footprint. 
UK government data revealed that Moray, which is home to around 50 distilleries, has the highest per capita carbon emissions in Scotland. A third of the carbon emissions that Moray's local authority has control over came from industry.
If you're looking to gift a bottle with a cleaner conscience, look no further than Scotland's first carbon zero whiskey, Nc'Nean. A fantastic example of a business that's applied its ESG principles across its full range of operation, careful consideration has been applied to everything from recycled rainwater cooling stills to 99.97% of all waste diverted from landfill.
3. Personalised Slave Free Chocolate From Tony's Chocolonely
What are the holidays without a little sweetness? From chocolate coins to a daily treat from your advent calendar, the season is synonymous with this treat, and every year Brits alone eat an estimated 208 million boxes of chocolates at Christmas time.
However, some of the issues within the chocolate industry can leave a bitter taste in the mouth. Cocoa production is well known for being linked to very complex economic, social, and environmental problems, including poverty, child labor, and deforestation. 
Some brands are pushing back against this with robust ESG policies and USPs that centre around doing better – especially in terms of social aspects of their operation. One such brand is Tony's Chocolonely,  who are on a mission to make 100% slave free chocolate the industry norm – and who are certainly leading by example.
This Christmas, they're offering personalised bars – all palm oil free and wrapped in zero plastic packaging, so you can send the right message to your loved ones in every sense of the word.
4. Save The Bees With Flowers From Petalon
 
Whether we're decking our own halls or looking to "say it with flowers" this holiday season, a beautiful bunch of flowers can make a stunning statement. However, the environmental impact of our blooms may not look so rosy.
Cut flowers, in demand out of season, are commonly grown overseas and imported. As a highly perishable product, refrigerated air freight is required to get them from greenhouse to vase rapidly. In 2018, according to estimates by the International Council on Clean Transportation, Valentine's Day flowers grown in Colombia and flown to US airports produced 360,000 metric tons of carbon dioxide. To give that a sense of scale, it equates to the emissions generated by close to 80,000 cars in a year.
The answer? Carbon neutral, local or sustainably produced flowers. If you're based in the UK then Cornish florists Petalon offer stunning bunches (grown in their own fields where seasonably possible.) They are carbon neutral as a business, and all profit is donated to bee conservation & carbon capture charities.
5. Get Out In Nature While Saving It, With Finisterre
They say that the best way to save nature is to begin by reconnecting with it. If your loved one is looking to turn over a new leaf and get back to the wild in the new year, perhaps with a little outdoor swimming, then chances are a changing robe is high on their Christmas list.
Huge, cosy robes that keep the chill off as you change by a muddy river or the crashing waves of a beach – what's not to love? If you're making a purchase, consider the offerings of Finisterre, who are known for their commitment to sustainability and ocean protection. We think their Lucas robe, made with 100% recycled polyester water repellent outer and thick recycled fleece lining, is the perfect for your Boxing Day dip.
6. Eco Friendly, Non Toxic Candles From Land & Water 
From advent wreaths to the menorah, as light in the darkness, candles have long been linked to winter celebrations. Candles make a gorgeous gift for a loved one, but it's important to choose wisely. Many are made from petroleum-based paraffin wax, and laced artificial fragrances filled with chemicals and pesticide-treated cotton wicks.
The environmental impact of petroleum products is well documented, but candles can also have a negative impact on your most immediate environment – your own home. As a petroleum product, wax produces high quantities of particulate pollution, which leads to poor air quality.
If you're looking for a safer option, produced by a company that places a strong focus on its ESG strategy, look to Land And Water. Their candles are crafted on a sustainably managed Cornish farm, created using natural wax and clean essential oils.
Land And Water's ESG strategy is especially strong when it comes to supply chain management, with all of their suppliers carefully vetted, selected and held to high standards.
7. The Gift Of A Healthy Habit With Vitable 
Convenient, ongoing and delivered directly to your door. What's not to love about a subscription service? Recent research shows that 15% of shoppers have signed up for one or more subscriptions to receive products on a recurring basis – and a subscription can also represent a great gift for a loved one.
If someone you know is looking to boost their health in 2023, but always falls off the wagon, a vitamin subscription could be just what they need, and a very thoughtful way to show you care about them. 
If you're looking for a brand with excellent ESG strategy, then consider exploring the offer of Vitable. They've really focused on waste, with their daily vitamin packaging  made from sustainably sourced, plant-based cellulose produced from sustainably harvested Eucalyptus trees which are certified to be GMO-free. As a result, all of their packing is certified home compostable. They're also carbon neutral as a business and help fund certified, high-impact climate projects from their climate action partner Trace's handpicked portfolio.
8. Eco Friendly Beach Toys For Plastic Free Seas
If you're buying for the little ones in your life, it can be difficult to dodge the plastic. But plastic-free doesn't need to mean fun-free – thanks to the multitude of environmentally friendly toy companies that cater to the modern child.
If your kid loves getting out and about in nature, then this sturdy set of eco beach toys, crafted from reconstituted wood and sustainably sourced rubber are a great option and will keep children busy in open-ended play for hours on end. 
Even better, their retailer, Envirotoy, donates 1% of its turnover to projects which aim to reduce the amount of plastic in the oceans.
9. Recycled Knife From Waterhaul 
When it comes to a solid ESG strategy that goes right to the heart of your business model, it's hard to beat a brand like Waterhaul, who have built a business creating products from reclaimed sea-plastics. They started off making glasses and sunglasses from these reclaimed waste products, but today their range of products has grown considerably.
Practical, tactile and always handy to have about your person during a beach cleaning session, we think their pocket knives would make the perfect gift this holiday season. Each knife sold directly enables the expansion of Waterhaul's "ghost gear recovery and recycling efforts by creating a demand for plastic to be removed from the ocean."
10. An Odd Coffee Subscription
Finally, for the coffee connoisseurs and caffeine fiends in your life, another fantastic subscription product. Every year, thanks to strict cosmetic and quantity requirements set by the supermarkets and the retail trade, millions of coffee pods and thousands of tonnes of perfectly good whole bean and ground coffee is wasted. Odd Coffee "rescue" these dented pods, repackage them and find them loving new homes.
To date they've saved 230 tonnes of carbon dioxide (enough to power 70 houses for a year!) and over 5 million coffee pods – enough for 3,600 people for life!
Happy Holidays From Everyone Here At KindLink!
The holiday season is a wonderful time to reset and reframe what truly matters – by being more intentional in our choices as consumers. We wish you all a wonderful holiday, and hope you'll support some of our favourite brands and their winning ESG strategies!