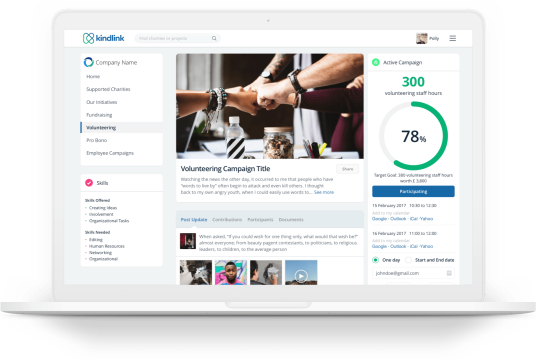 Description of Volunteering Ready-to-Go
KindLink Services included: * Sourcing tailored volunteering opportunities from registered non-profits (up to 5 employees per opportunity) * Online page with loaded opportunities for employees to sign-up, organise and promote * Charity and opportunity vetting The KindLink platform offers multiple additional features to make volunteering in your organisation as easy and as engaging as possible. Some of these features include collecting & posting pictures, videos and stories from your employees; automated feedback forms for employees' experience; document management for risk-assessments, receipts and H&S checklists; public profile to showcase the opportunities to future recruits;integrations with your existing internal comms systems; impact updates from the supported charity showcasing the projects you volunteered for; fundraising, matched giving and payroll giving.
KindLink
KindLink the world's first free social media and fundraising platform for donors and transparent charities. In a social media-like environment, we create a kind-link between those who want to help and those in need.
See other opportunities to help us here. Follow the latest events and trends in the philanthropy space here
Charity Registration No. SOCIAL_ENTERPRISE