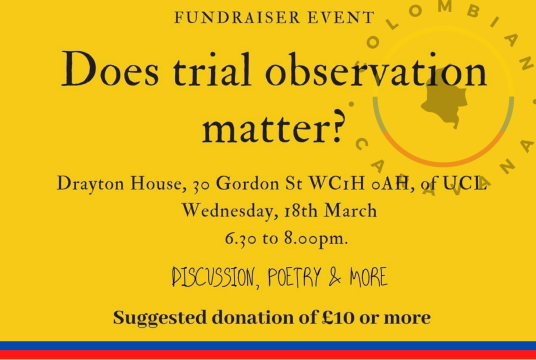 £160.00
raised by 6 donations
of £1,800.00 Target Goal
Story of Does trial observation matter?
We ask for a donation of £10 or more to attend this fundraising event! The Caravana has been observing the Colombian high profile case known as the '12 Apostles' since December 2018. Santiago Uribe Velez, brother of former president and current senator Alvaro Uribe Vélez, stands accused of crimes against humanity and other serious charges including murder and forced disappearances. We will be discussing the importance of adherence to the international standards of a fair trial, and how this strengthens the respect for the rule of law in Colombia. The trial was scheduled for the last hearing in December 2018, however, since then the observers had to travel for four more 'final hearings'. And now it seems we have reached the real final (sixth) hearing scheduled for 24 to 27 March. It is difficult to underestimate the importance to continue observing this emblematic case that attracts the attention of the whole Colombian society. We ask you to join us for a fundraiser evening on trial observation, poetry and more... Please Gift Aid your donation, if you are a UK taxpayer as it means we get an extra 25% at no cost to you. The panel discussion is featuring some of our international observers who attended the hearings of this trial: - Professor Sara Chandler, QC (Hon) Co-founder of the Colombian Caravana, member of Law Society Human Rights Committee and past President of the FBE - Sasha Zernova, director of the Colombian Caravana and expert in trial observation - Alice Garside, Solicitor at Withers Worldwide LLP and member of the Colombian Caravana Chaired by Sue Willman, chair of the Human Rights Committee at the Law Society and past chair of the Colombian Caravana We will also have poetry readings by Gwen Burnyeat and James Lupton And more surprises you will need to find out for yourself. We look forward to seeing you there! Details: Date: Wednesday, 18th March Time: 6.30 to 8.00pm Address: Drayton House, 30 Gordon St WC1H 0AH, of UCL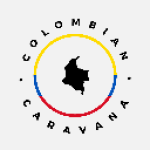 Colombian Caravana
The Colombian Caravana is a small and dynamic UK charity, at the centre of an international network of jurists to support lawyers and legal professionals in Colombia. The Caravana is a pioneering initiative based on solidarity, education and advocacy. Colombian human rights lawyers conduct vital work ensuring access to justice for marginalised and excluded victims of human rights violations, including indigenous peoples, Afro-Colombians, small-scale farmers, women, displaced persons, and family members of victims of extrajudicial killing and forced disappearance. Moreover, lawyers play a key role for victims who seek to find truth, justice, reparation and guarantees of non-repetition. The Caravana works to promote human rights, rule of law, and access to justice in Colombia by collaborating with Colombian human rights lawyers, strengthening their capacity to represent victims and advocate for their safety and well-being in their work. The Caravana began in 2008 when we were first invited by Colombian human rights lawyers to undertake an international delegation of jurists: since then we've organised five biennial delegations to Colombia. We have almost no overheads, an active and engaged board, and a volunteer membership that committed to ensuring that Colombian human rights defenders are able to carry out their work freely without threat to their lives and occupation. A donation to the Caravana is directed immediately towards ensuring we provide the best legal and solidarity support to lawyers at risk.
See other opportunities to help us here. Follow the latest events and trends in the philanthropy space here
Charity Registration No. 1141255