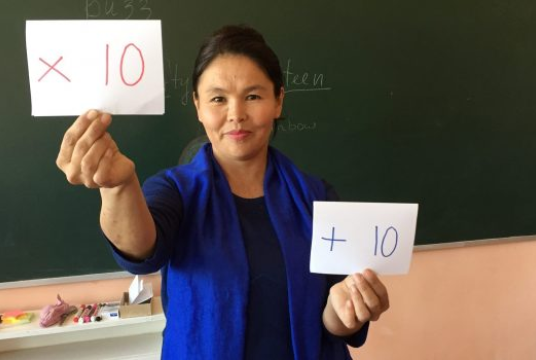 £0.00
raised by 0 donations
of £1,500.00 Target Goal
Story of Help Train English Language Teachers in Rural Kyrgyzstan!
The project described below has had to be postponed due to the covid-19 pandemic. In May 2020, the Erayim Aid Trust UK will be sending three experienced English language teachers from the UK to train 40 English language teachers in rural Kyrgyzstan, one of the five post-Soviet republics in Central Asia. The two-week course will take place in Bazar Korgon, in the south of the country near the border with Uzbekistan. In this impoverished Ferghana Valley region, touched by ethnic conflict and economic hardship, life chances for young people are poor: schools have few facilities and decent jobs are scarce. Many leave for the capital Bishkek or migrate to Russia in search of work. Our project aims to improve the life chances of young people there by equipping local teachers to deliver better quality English language teaching. Long considered off-limits for visitors to the country due to fears of ethnic tension and riots, our charity has avoided Bazar Korgon in the past. Now that the FCO deems it safe, this year's visit from our team will improve morale for the region's isolated colleagues and teachers. Our three volunteers will pay for their expenses themselves and, with vital administrative support from the Kyrgyz NGO, Erayim, will deliver an intensive two-week training course to teachers, focussing on interactive language learning and aspects of British culture and daily life. This is the seventh such course our volunteers will deliver in Kyrgyzstan. So far, so good. But here is where we need your help… We would like to equip a local school with a data projector and distribute some small teaching aids to our course participants, such as colourful English language posters, books in simplified English, CDs of English songs and English-language games. A data projector is an overhead projector hooked up to a computer, which allows teachers to beam pre-prepared material onto a screen or wall and are standard classroom equipment in UK schools and universities. A data projector will enable our trainers to prepare their materials in England and bring only a laptop or even just a memory stick on the plane. The teaching aids will be invaluable in helping the teachers deliver engaging and varied lessons. We are therefore seeking to raise £1,500 for a data projector and some English language teaching aids. This is a small but vital project, embedding modern English language teaching in some of the remotest and most disadvantaged areas in the world. Providing rural English teachers with modern training and equipment not only encourages and support the teachers themselves but improves the quality of teaching for a generation of rural school children in Kyrgyzstan. Help us fulfil our dream of sending our volunteers to Kyrgyzstan with a data projector and teaching aids this May! The smallest donation will make a huge difference to the impact of their work in Bazar Korgon and will help foment high-quality and sustainable English language teaching in a deprived region of the world. You can find out more about the work of the Kyrgyz NGO Erayim, whose work we support, here:
erayim.org/en
You can learn more about Erayim Aid Trust UK here:
erayim-aid-trust.uk

The Erayim Aid Trust UK
Our purpose is to help the poorest sectors of society in the Kyrgyz Republic through education and capacity building. Our charity supports the work of a local NGO in the Kyrgyz Republic, called the Women's Public Union Erayim (WPU Erayim), which has a high reputation of probity and efficiency among its European and US donors. We raise funds for them and for the education centres we have jointly created, although we are completely independent from them. We organise educational projects in Kyrgyzstan with the help of volunteers. We run professional development courses for teachers of the English language in isolated areas of the country. We have also created the Gateway Project of the Buchur Development Centre, delivering extra-curricular lessons in IT and English to disadvantaged young people in poor suburbs of the capital Bishkek.
See other opportunities to help us here. Follow the latest events and trends in the philanthropy space here
Charity Registration No. 1163524